Yesterday I attended my first Food Truck Fest, this one in the parking lot of the Hyatt in Irvine. For the few of you left who haven't seen the rise of this phenomenon, the "roach coaches" and "lonchera" trucks common in most areas have now been joined by a new breed. The trucks apply the term "Roadfood" in a truly literal meaning. Mobile, the new trucks serve everything from bacon wrapped hotdogs and fusion tacos to crepes and gourmet grilled cheese sandwiches. They use the road as not just a place to locate, but a way to get from area to area. And the food, by and large, is great!
Ten trucks were at this event. The most popular ones seemed to be Calbi, serving a fusion of Mexican food and Southeast Asian flavors; Crepes Bonaparte (of Food Network's Great Food Truck Race), serving main course and dessert crepes, Piaggio, which I thought sounded Italian but actually was awesome Argentine-influenced food, and Taco Dawgs, serving Roadfood staples such as hot dogs and tacos with a very unique twist. Other trucks I saw included Louks to Go, a Greek truck serving falafel, souvlaki and other Greek delights, Rancho Rocke, a barbecue truck with pulled pork sandwiches and Texas brisket slider;  Fresh Fries, a popular truck with chili fries as well as fries with assorted dipping sauces;  Chomp Chomp, which featured Singapore street food such as satay skewers, spring rolls, Singapore chili crab sliders and even lamb burgers. Rounding things out were The Bakery Truck, with fresh cream puff, chocolate chip cookies and more;  Flavor Rush, another one with various items such as tacos with Asian influenced sauce and burritos and even chili mac; and even an outdoor grill from the Hyatt, with items such as beef and ahi tuna sliders.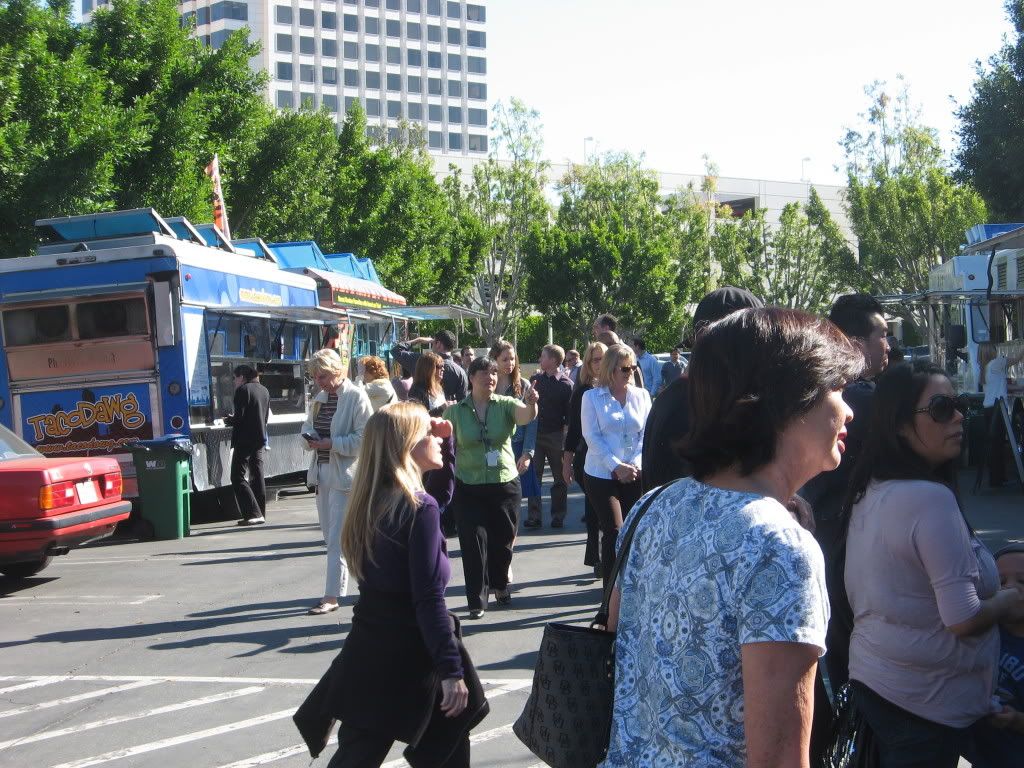 It was difficult to decide what I wanted. My first stop was at the Calbi truck. The taco I got looked like a normal taco, two soft corn tortillas with meat that looked like pork carnitas and some yellow and white cheese on top. My first bite was amazing. The meat was strips of pork, grilled with a peanut sauce glaze and garnished with green onions and green leaf lettuce. Fusion food can sometimes not work, but this combo was really good. They also had Quesadillas, filled not only with cheese, but also chicken, tofu, shrimp and even kimchee.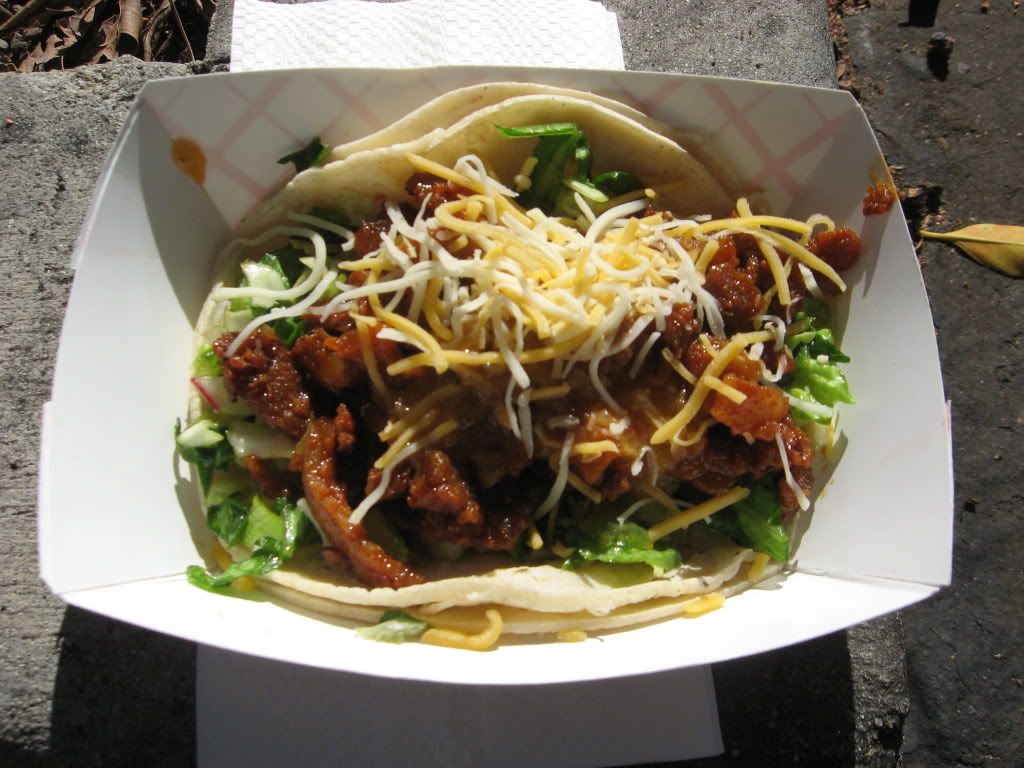 The other tacos from there looked awesome also. In tacos, fusion really works! 
Piaggio on Wheels had an interesting lineup of foods, based on Argentinean dishes but with some unique spins. I passed on the Argentine pork sausage sandwich, the chicken milanesa sandwich and the pulled pork sliders on sweet Hawaiian  buns, even though they looked great. I got the chicken empanada. It was full of tender chicken in a flaky crust and served with a freshly made chimichuri sauce on the side. Yum!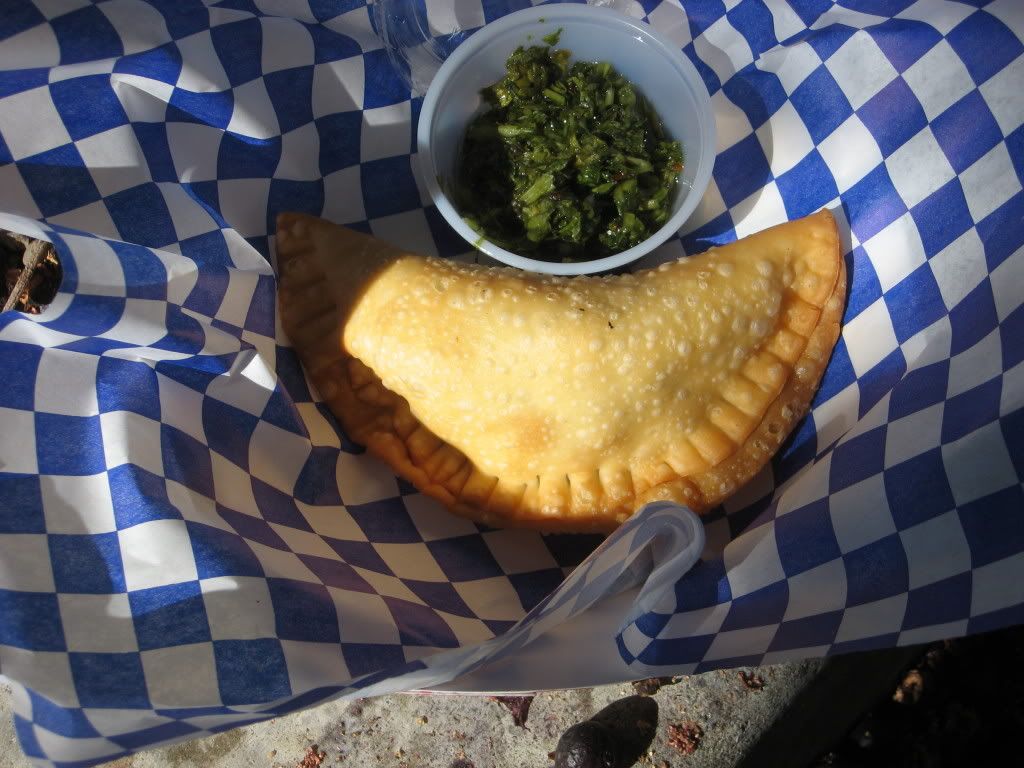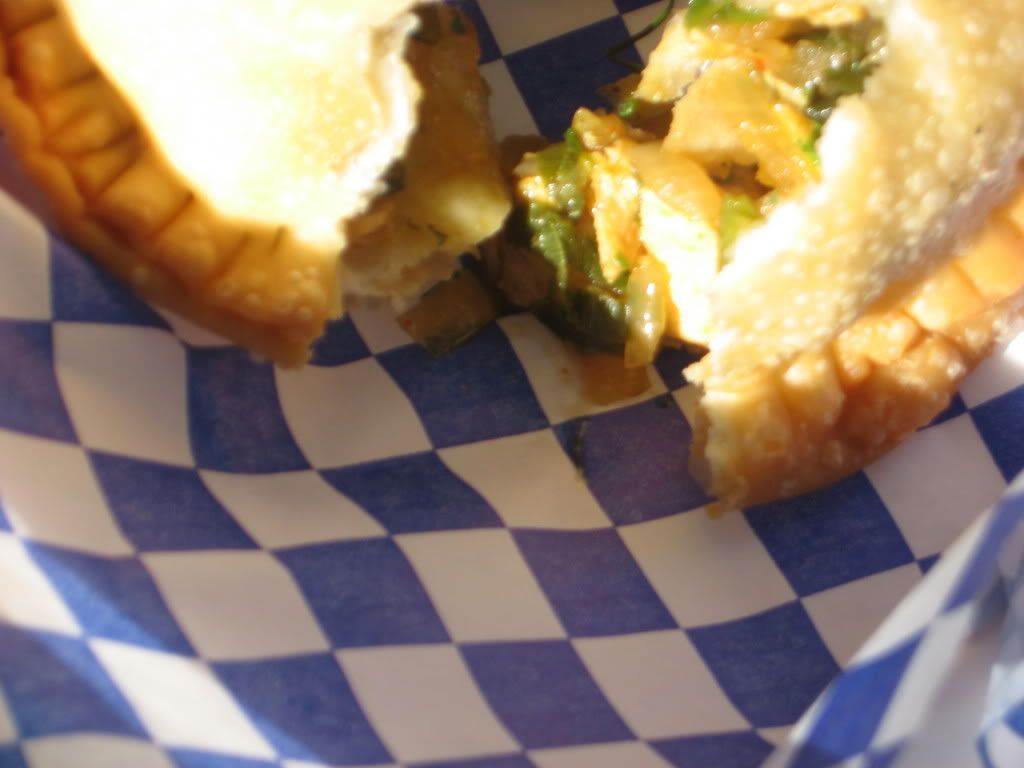 Crepes Bonaparte had a long line of people. The crepes looked great and I heard a lot of good comments about them.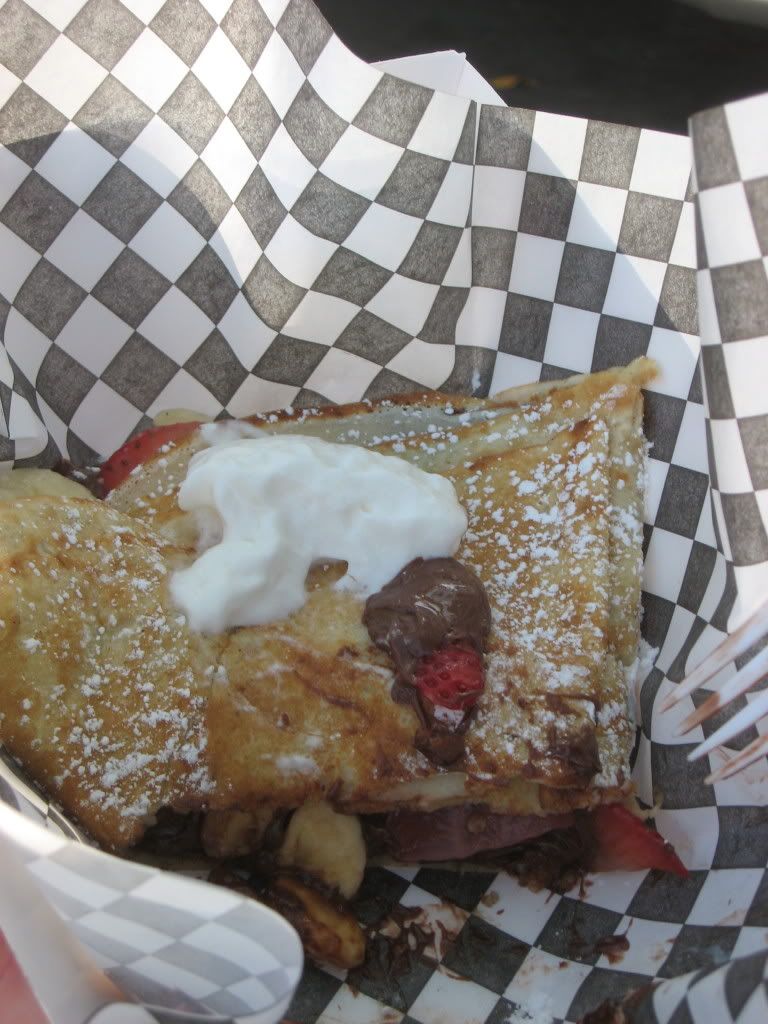 Taco Dawg's Cowboy Dawg caught my eye next. It is an all-beef dog, covered with cheddar and bacon, smothered in a Tex-Mex style barbecue sauce and topped with two gorgeous onion rings. It tasted delicious and filled me up to bursting. So many more trucks to try but I was full! My second choice would have been the Reuben dog, topped with sauerkraut, Swiss cheese and Russian dressing.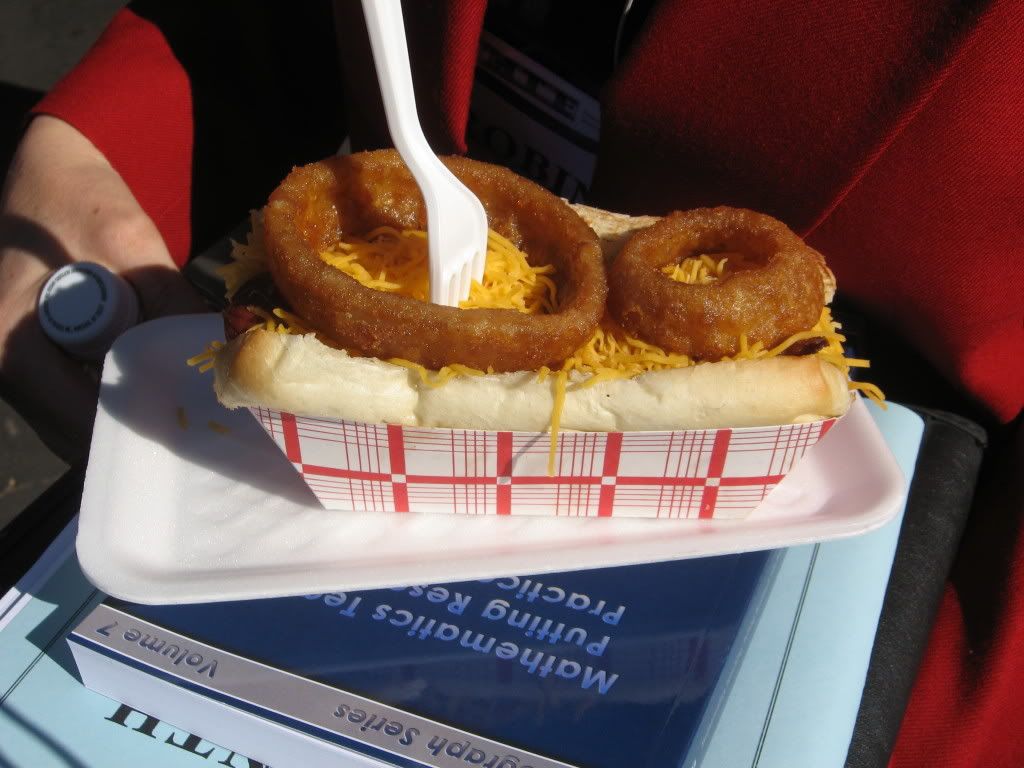 The menu at Chomp Chomp was really interesting. They bill themselves as Singapore style street hawker food. The most unique item had to be the Singapore Chili Crab Slider, a crab cake with a ginger and lemongrass based chili sauce. They also had Singapore Sloppy Joes----an old standard but with a ginger and coconut milk based sauce in place of the traditional one, Kobe beef and shrimp skewers, spring rolls and a rib eye sandwich and lamb burgers. The spring rolls looked delicious, filled with tofu and veggies and covered with a sweet, slightly spicy sauce. They also had an interesting take on French toast, stuffed with coconut jam and covered with tropical fruits.
By the time I left the lines were long. Everyone seemed happy, munching at a variety of foods. I was really impressed with the quality of what I tasted--locally made, fresh, non-corporate food. In a few hours the trucks will be back on the road. While they may not fit completely the idea of what many of us think as Roadfood, they bring a new way to get food on the road.